About Us
In today's fast-changing world, true online products like ATRT provide efficiency, security, and equitable access. ATRT online is the solution with anywhere and anytime access that is not restricted to one particular computer. There is no installation and you no longer need to worry about backups or upgrade hassles. You never have to upgrade as you will always be using the most current version of the online program. We invested in the true online experience because it provides the students with the best school and home learning experience.

We have now developed a web version of ATRT, because online delivery is becoming essential for our schools and expands the students' learning environment to include their home.
Our commitment is to create the best possible learning toolsfor today's students - the leaders of the future.
39 Years of History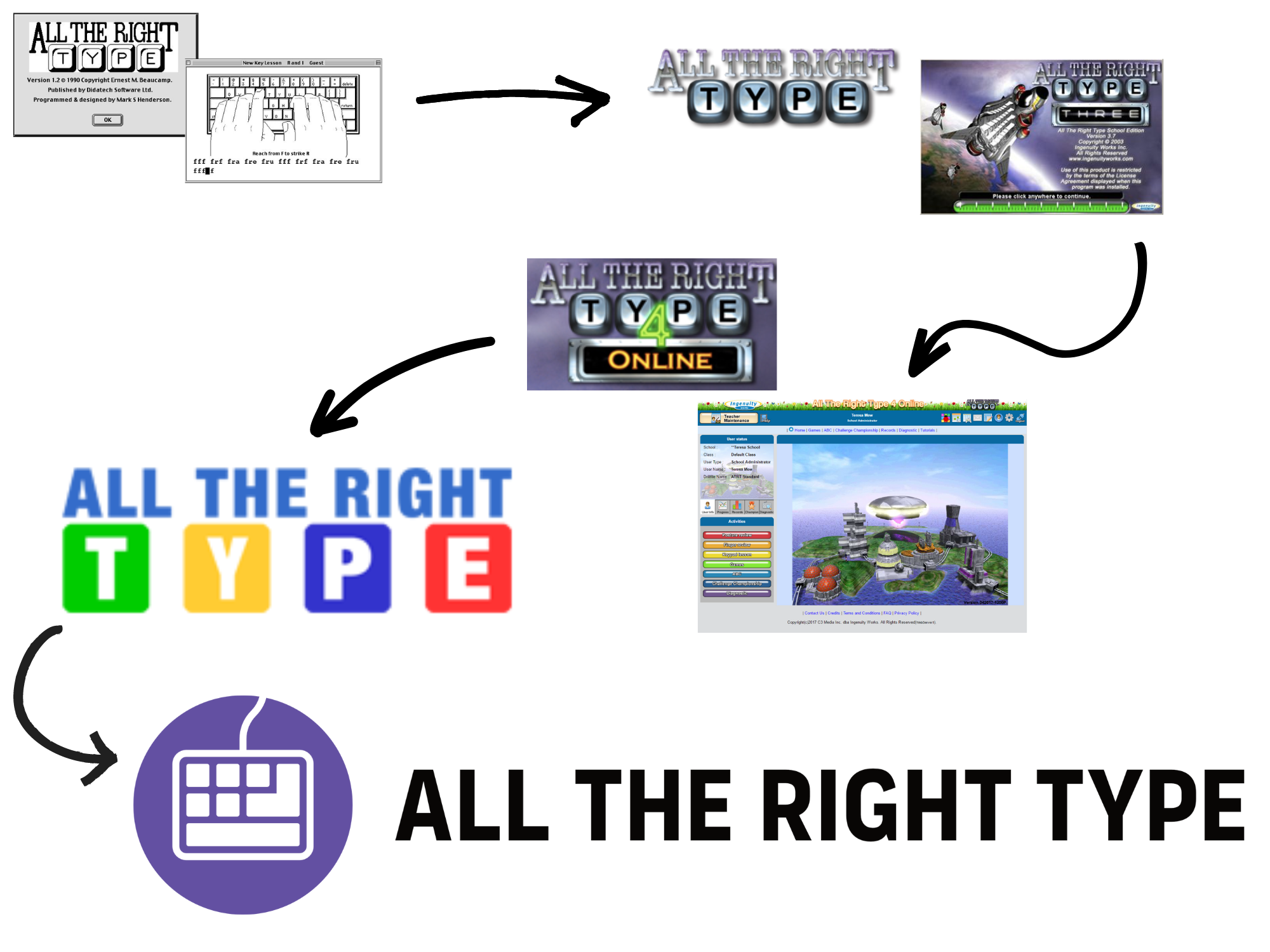 All the Right Type was first released in 1984 for the Apple II computer. The software was developed by Ingenuity Works Inc. (formerly known as Didatech Software Ltd.), a software company based in Vancouver, Canada. The original concept for the program came from keyboarding specialists, Ernest and Pat Beaucamp.
In the early years, All the Right Type was primarily used in schools to teach typing skills to students. The software's effectiveness in improving typing speed and accuracy quickly made it popular among educators, and it was soon adopted by many schools across North America.
Over time, All the Right Type continued to evolve and adapt to changes in technology. It was updated to work with newer computers and operating systems, and new features were added to enhance the user experience. In 2010, All the Right Type was launched online at www.atrtonline.com and is now available everywhere and anytime with an Internet connection.
Today, All the Right Type has been used by over 50,000 educational institutions and schools, making it one of the most trusted typing programs. All the Right Type has stood the test of time - because of its proven track record of success and user-friendly interface it remains a popular choice for among schools and individuals who want to improve their typing skills.
Credits

Paul Melhus, President of Ingenuity Works
Mark Henderson and Dave Vincent, Original Programmers
B.J. Kim, Lead Programmer/Artwork
Stephanie Peterson, Director of Operations
Ernest & Pat Beaucamp, Original Concept

Special Thanks

Bob Doyle
Teresa Mew
Gretchen Bonsall
Fiona Zhang
Caitlin Doyle
Central Middle School, Bartlesville, OK, USA
Mr. Rovenstine and Grade 6, 7 & 8 students
School District #63 Saanich, Saanichton, BC, Canada
Keating Elementary
Kelset Elementary
Lochside Elementary
Royal Oak Middle School
Wayland School District, Wayland, MA USA
Jude Edwards
DJ Cornell
Ryan Haksi